Nissan Renault Financial Services India Private Limited ("NRFSI") was incorporated under the Companies Act, 1956 on 17th October 2013, as a subsidiary of Nissan International Holding B.V., Netherlands. The Company also obtained the Certificate of Registration under Section 45IA of the RBI Act, 1934 from the Reserve Bank of India to commence the business as a Non Deposit Taking Non-Banking Financial Company (ND - NBFC). By virtue of ramp up of its business operations now, NRFSI is categorised as Systematically Important Non - Deposit taking Non - Banking Financial Company (SI – ND – NBFC)Shareholding pattern of NRFSI is as follows :
NRFSI is a joint-venture between Nissan (70%) and Renault (30%)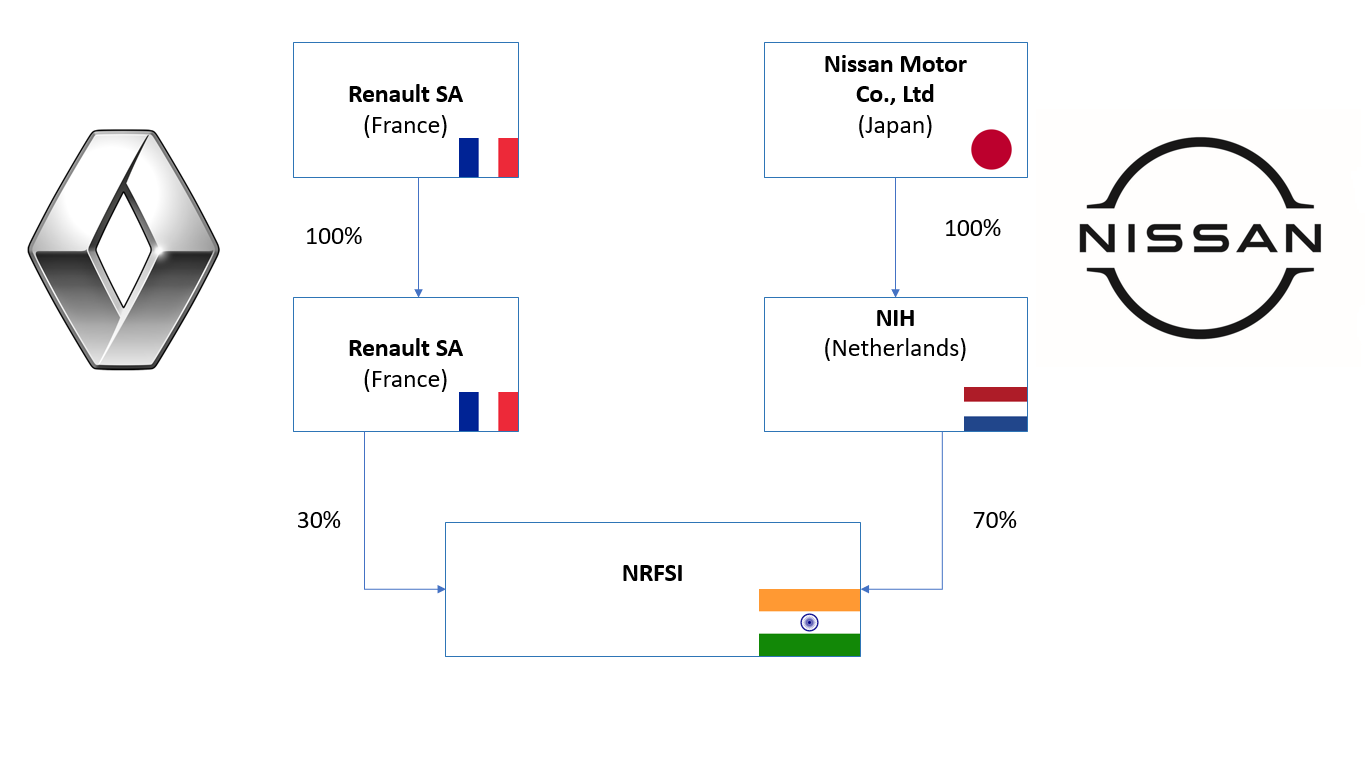 NRFSI is engaged in the business of financing vehicle as captive financier in India for Nissan, Renault & Datsun brand cars by extending retail credit and dealer financing and other allied businesses.
LEADERSHIP TEAM
The Company's Board of Directors comprises eminent personalities in the field of finance.
Board of Directors
Mr. Rakesh Kochhar - Chairman and Director
Mr. Andrew Maeer - Director
Mr. Elias Francisco Chavez Godinez - Managing Director
Mr. Geraud Henri Louis Lecerf - Director
Mr. K P Amarnath - Alternate Director to Mr. Andrew Maeer
Mr. Xavier Pierre Marie Lacroi - Alternate Director to Mr. Geraud Henri Louis Lecerf
Key Managerial Personnel
Mr. K P Amarnath - Chief Financial officer and Head of Information Technology
Mrs. Ritika Khaitan - Company Secretary
Senior Executives
Mr. Chandramouli Vaidya Nathan - Chief Risk Officer
Mr. Harmandeep Singh Walia - Head – Sales & Collections
Mr. Mohit Kapoor - Head – Marketing, Insurance & Retail Operations